Instant Funding is now available to cardholders. All Instant Funding deposits are subject to a 1.5% fee.
Instant Funding allows you to fund your Fold Card within seconds using an external debit card.
In order to use Instant Funding, you must first set up an account with Astra.
You'll be asked to enter your SSN and phone number again to verify your identity. If you are already using our in-app ACH method, you most likely have already done this step.

More information on Astra - What is Astra?
Follow these easy steps to fund your Fold Card with a linked debit card:
1. On the Fold Card tab, tap Add Funds and then select Instant Debit Card Funding.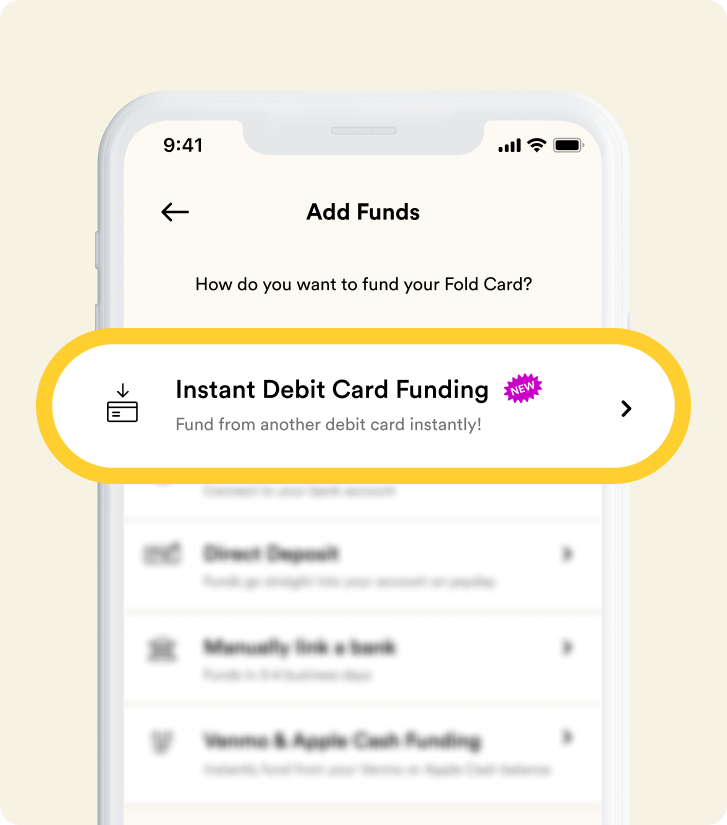 2. Tap Add debit card, then follow the steps to link your debit card through Astra.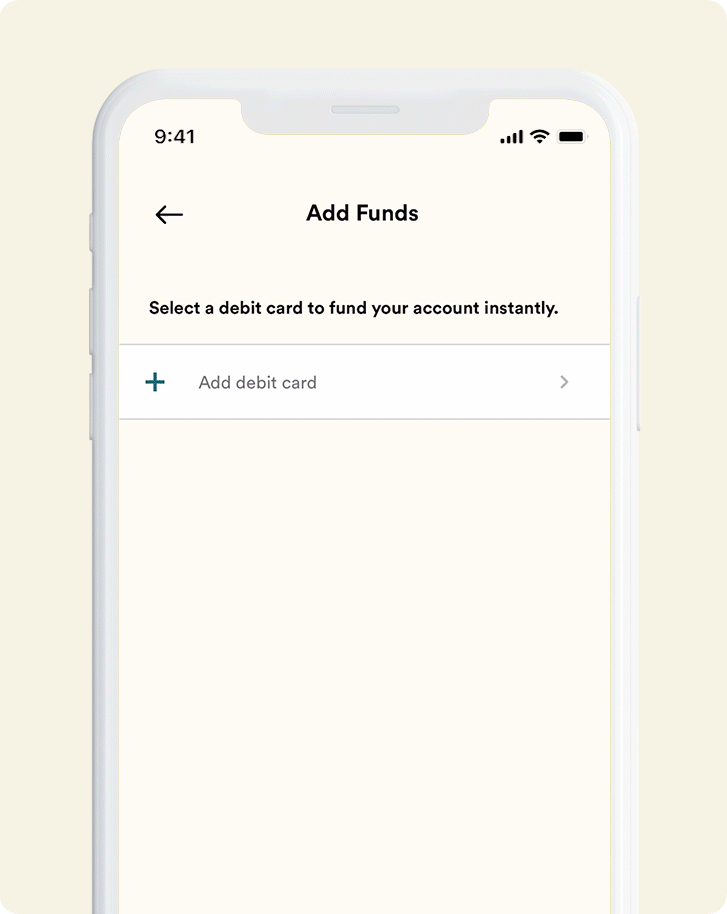 3. Tap Continue to Fold, select your available debit card, then input the amount to transfer... Success!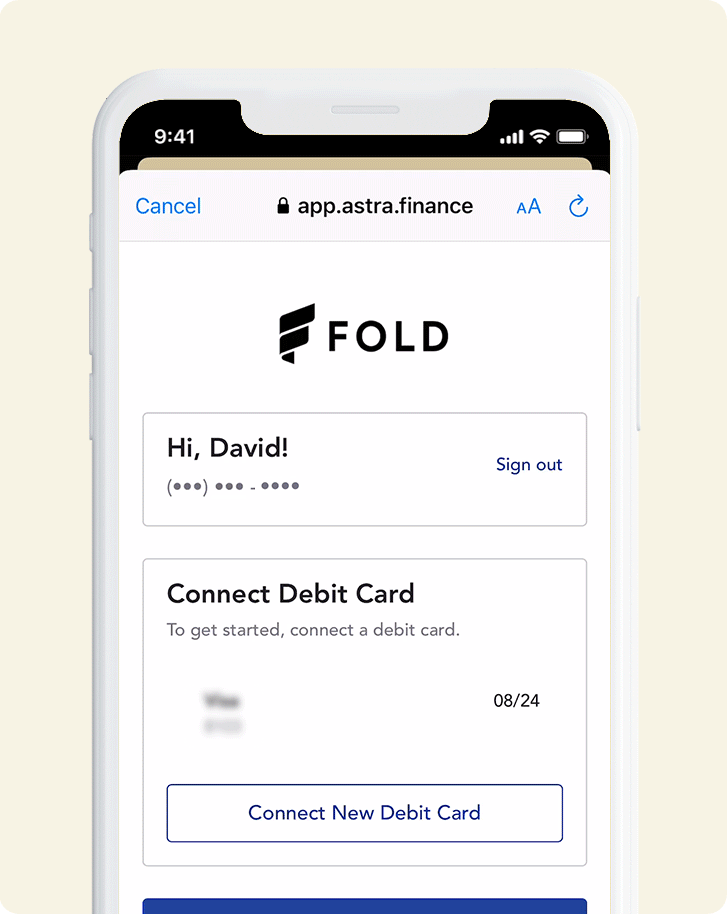 Need more help? Here are the detailed steps:
Tap the 'ADD FUNDS' button below your balance on the Fold Card tab.
Tap 'Instant Debit Card Funding' at the top of the list.


Note: If you don't see this option, go to the App Store/Play Store and update the app to version 139.10.3 or higher. You can check the version of the app in the Account tab in the app.

Tap 'Add debit card.' You may instead see a field to enter your social security number. This is a necessary step if you haven't gone through the Astra verification process yet*.
Tap 'Connect New Debit Card' and enter your card information.

Note: The address loaded should be the address associated with your Fold Card, but tap 'edit' anyway to verify it's fully correct. If the billing address for the card you are loading is different, please edit the address to the appropriate address.

Tap 'Submit,' then 'Continue to Fold.'
Tap the card you just added and then 'USE THIS CARD' at the bottom.
Enter the amount you wish to deposit. (Minimum $1 - Maximum $500) and then 'TRANSFER FUNDS.'
You will see a 'Success!' screen showing you the amount you just deposited. You should see your funds in seconds, but it could take a couple of minutes in some cases**.
Notes:
**Instant transfers into your Fold Account will appear on your bank statement as "ASTRA San Francisco CA."
In order to use Instant Debit Card Funding, you'll need a debit card from another bank; credit cards won't work.
Many prepaid debit cards block these types of transactions. If your card was declined, your card provider is not allowing the transaction to go through, and you'll need to contact them to find out why.
Be aware your bank may flag multiple transactions in a short period of time. If this happens, reach out to your bank.
If you're unable to use Instant Debit Card Funding, Submit a request, or you can try our alternate funding methods:
1. Direct Deposit from Employer - How do I enroll in free direct deposit?
2. In-app ACH deposit - How do I link my external bank account to my Fold Card?
3. Manually link your bank via the external transfer function - How do I link my bank to my Fold Card?
4. Apple Pay or Venmo (instant comes with fees from Apple/Venmo) - How do I fund my Fold Card instantly with Apple Cash, Venmo, or PayPal?
**Any rewards earned and bitcoin purchases are not subject to Federal Deposit Insurance Corporation or Securities Investor Protection Corporation protections.**
Updated