Rewards Wheel Status: It's a Miracle on 21,000,000th Street!
Starting December 1st, the rewards wheel for Spin+ subscribers will be boosted.
We've split the a whole bitcoin into 210 separate 100k sat prizes, and we're increasing the odds of winning those prizes each week until 210 people win!

Read more about the fun here: It's A Miracle On 21,000,000th Street.

Not Spin+ yet but still want to play? Upgrade to Spin+ from the app today!
Prize Table
The best wheel prizes are available to Spin+ users.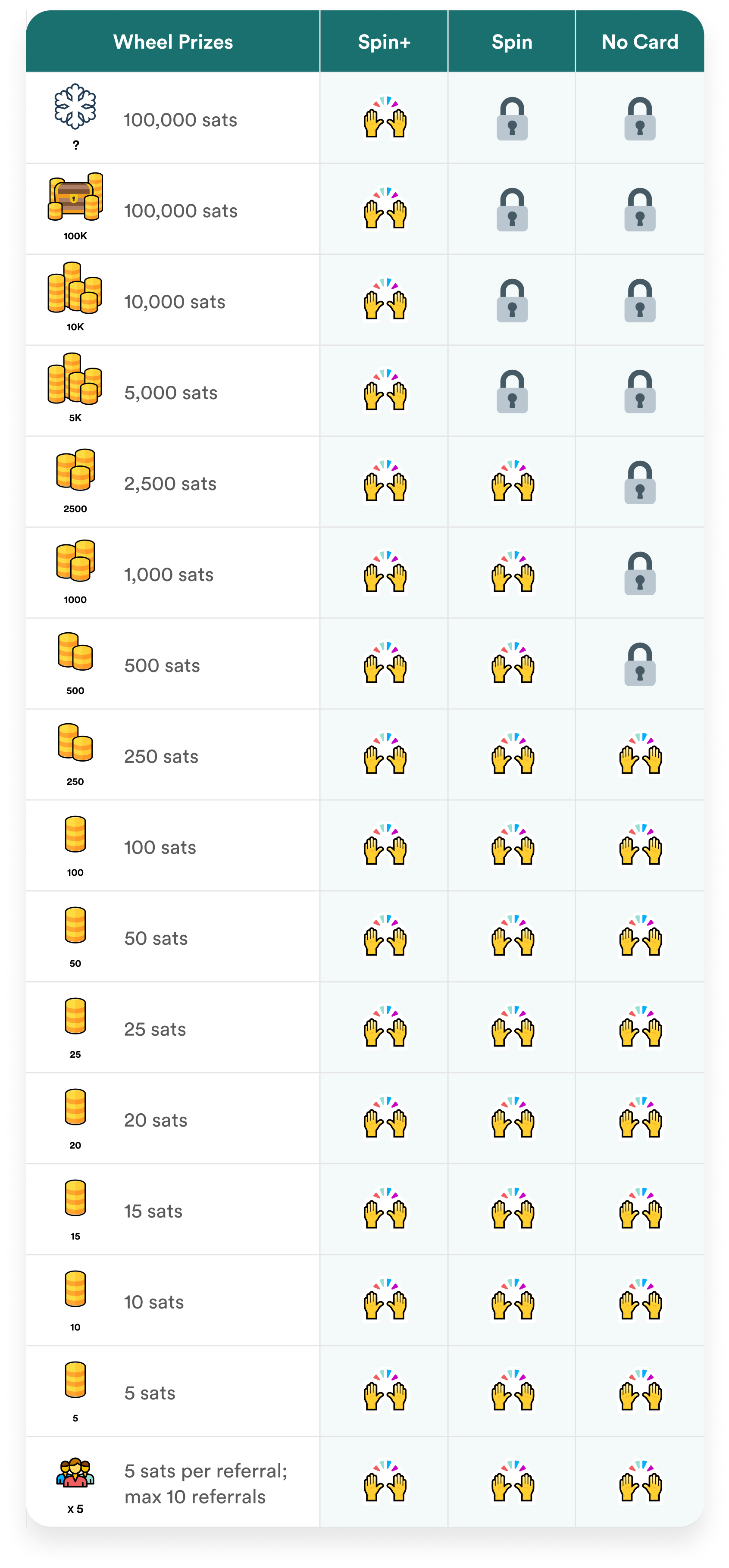 How Spins Work
Earn Spins when you do things on Fold, then use your Spins to spin the wheel and win bitcoin rewards. The wheel prizes range from 5 sats to 100 million sats*!
How Rewards Work
Spin+ subscribers automatically receive 0.5%-1.5% back in bitcoin on every qualifying Fold Card purchase. In addition, for each $10 spent on the Fold App or using the Fold Card, all users will receive 1 Spin:
Spend $10 buying bitcoin = earn 1 Spin
Spend $10 buying Gift Cards = earn 1 Spin
Spend $10 with your Fold Card in-store or on-line = earn 1 Spin
Spend $5 buying bitcoin + spend $5 buying coffee with your Fold Card = earn 1 Spin
Read more about how rewards work here.
Prize Odds
Wheel prize odds are always kept up to date on the Spinwheel Official Rules.
*Prize exclusive to Spin+ subscribers.
Updated